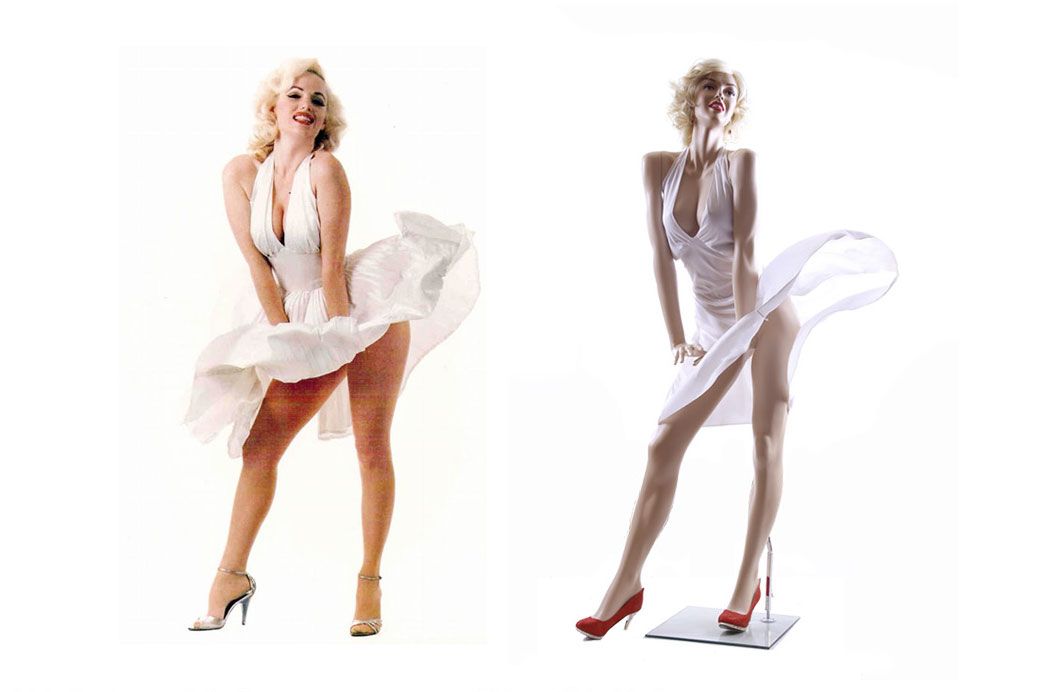 The lastest August 5 is the date of fifty five Anniversary that Marilyn Monroe passed away, althoutgh 55 years has gone, as one of the most well-known screen actress, also famous by her blonde hair and red lips, attractive beauty along with nifty sexy ,she has been adored as a forever living goddess, at the same time, is the leading person of sexy symbol and fashion culture, and becomes an idol which been copied and prostrated by lots of latter stars. Thereby, we decide to develop these sexy mannequins line origined from Monroe, to impress people more on her pose to press a flying skirt, now let us copy this pose with full heart, update this pretty, so as to express our greeting and memory of the sexy goddess, adding some fresh things into the mannequins display items, and hope to attract some futher thoughts from present females on the idea of beauty and fashion topics.



1. The classic pose, the final pose, that's she!
Sculpting a Monroe smiling head with teeth.
Customizinging a waved wig according to original picture.

2. Assistant is electrowelding the metal stand, sculptor Lee standing on right,
Put pose picture aside for reference.
Assistant uses the metal line to make some small circles.
Finished metal stand .


3. Wet clay in small pieces are attached to the metal stand to build up a structure .
Lee is working according to the picture.
Lee adds a head for her.
It is nearing completion, you can see she is exactly Monroe.

4. Lee is reshaping the surface details.
After further work, we can see her realistic muscle.



Various views of Monroe


5. Another sculptor Wang is doing some modification on the chest.
Making the legs more perfect.
Final detailed adjustments are made and the clay smoothed.



6. Keep it wet to protect the body from being out of shape.


7.The front part has been finished.
Full body is covered by plaster, ready to become dry for mold made .



8. After further modification, we can use this body to make original mold






9.The final effects.