However, following the lockdown, social distancing, and safety measures to help stay safe during the pandemic, store window displays no longer function like they used to. Today's consumers spend most of their time doing research online and buying merchandise from online stores. According to Oberlo, 26.28% of 7.8 billion people shop online, which is over a quarter. We're heading into what's known as a "low-touch economy." Store windows have to be redefined to meet the new shopping standards.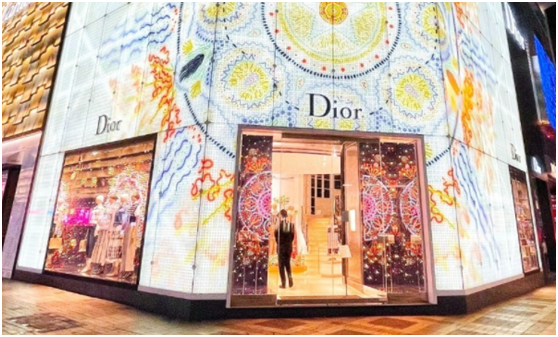 The luxury industry is redefining store window displays and how we incorporate technology to create an immersive shopping experience for customers.
By turning physical store windows into an immersive shopping experience complete with social media engagement and technology-driven design will help connect brands to their target audience. Digital arts create a new aesthetic to the window displays of the future.
Burberry's new social store in Shenzhen, China, is the epitome of futuristic window displays. Burberry collaborated with Tencent to introduce interactive mirrors to capture people's movement when someone interacts with it. Selfridges also created a digital store window with 3D animation in their Oxford Street location. The window was dubbed 'The New Order Windows.' This new store window highlights digitally rendered products on the large screen and allows shoppers to purchase directly from the window with a QR code. This helps reinforce the urge to shop when customers pick up online orders or check out in physical stores.